Hi friends! I wanted to post sooner. It has been very rainy and dreary here. I could not get any decent pictures of my finish at all. I had to wait. So here I am now. Let me share my latest finish with you.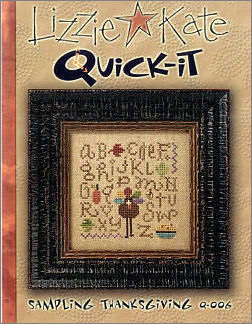 I have a proposition for you. Do any of you want this pattern? I have obviously used the acorn charm that comes with the pattern. Here is what I would like. I would like to give this chart to someone who would give me Lizzie Kate Merry String in exchange.
Or perhaps any one of the Lizzie Kate Flip It Months. How does that strike you? Let me know in your comment or email me. 😊
I am stitching up the November wreath for the cubby shelf.
I watch Barb and Leanne from "Lost In Floss"/Flosstube, they live right here in Southeastern Wisconsin. Barb has great success going to her Goodwill store. She finds wonderful cross stitch stash and other cool finds. So I went this weekend. Thought I would give it a try. I had not gone in half a year to look for "good stuff". Our Goodwill store reeks of mildew and it triggers migraines for me. Unfortunately scents really affect me. Anyhow, you wanna know my GREAT find?? A 50 cent kit. Complete with hoop, aida, needle, floss and pattern. For a happy face poop emoji!!!
Um, no thanks! Barb has all the luck!
Four Funerals and Maybe a Wedding
by Rhys Bowen was a great book. I love all the books in the "A Royal Spyness Mystery"series. They are fun and keep you guessing. I love the characters in the series as well.
In the days leading up to her wedding to Darcy O'Mara, Lady Georgiana Rannoch takes on the responsibilities of a grand estate, but proving she can run a household just may be the death of her in the new Royal Spyness Mystery from the New York Times bestselling author of On Her Majesty's Frightfully Secret Service.
If only Darcy and I had eloped! What I thought would be a simple wedding has been transformed into a grand affair, thanks to the attendance of the queen, who has offered up the princesses as bridesmaids. Silly me! I thought that withdrawing from the royal line of succession would simplify my life. But before Darcy and I tie the knot in front of queen and country, we have to find a place to live as man and wife...
House hunting turns out to be a pretty grim affair. Just as we start to lose hope, my globetrotting godfather offers us his fully staffed country estate. Mistress of Eynsleigh I shall be! With Darcy off in parts unknown, I head to Eynsleigh alone, only to have my hopes dashed. The grounds are in disarray and the small staff is suspiciously incompetent. Not to mention the gas tap leak in my bedroom, which I can only imagine was an attempt on my life. Something rotten is afoot--and bringing the place up to snuff may put me six feet under before I even get a chance to walk down the aisle...
My friends, Scott's health is failing. He is in the hospital hooked up to a machine to help him breathe.Please pray for him, Jenny, and his two adult children, Andrew and Emily, in this very, very difficult time.
🙏🙏🙏
I hope you have a wonderful week my friends! Thank you for stopping by. I appreciate all of your comments and I reply to all of them, as long as you are not "no-reply".
"For the Son of Man came to seek and to save what was lost." -Luke 19:10
Stitching and praying,
Vickie