Hi friends!Welcome to the Easter Treasure Hunt Blog Hop! I have been taking part in this fun event for years now. This is hosted by
our friend Jo
.
You can learn all about it, and find out where the Hunt begins, by going to
Jo's blog
. Each of us in the Hunt are sharing an Easter or Spring stitched finish with you.
I have just completed this:
This is Lamb Egg/Lämmer-Ei by Elisa Tortonesi-Sieß. I stitched this one over one on 28ct Wichelt Monet Blue linen with DMC.
Do you remember these?
I remember these from my childhood.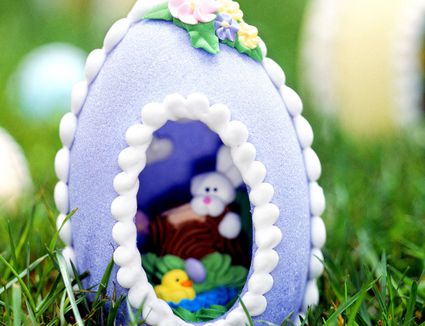 I found the ribbon at Hobby Lobby. It made me instantly think of the frosting that was piped around these eggs.
I glued a piece of white paper to the backside of the plain cardboard egg shape for the back piece. I then glued on a double layer of white sparkle mesh.
I am very happy with this finish. It reminds me of the sugar eggs.
😊
Each of us participating in this Easter Treasure Hunt Blog Hop were assigned a letter. If you visit Jo's blog to find out where to begin, then you can hop from blog to blog, collecting letters as you go. You will end up with the Mystery Phrase. :) My letter is
You need to visit Barb's blog
next to continue on in order, and solve the mystery!
For the message of the cross is foolishness to those who are perishing, but to us who are being saved it is the power of God. 1Corinthians 1:18
I will be back tomorrow to announce the winner of the Lizzie Kate chart. Still time to enter the giveaway!😉
Thanks for stopping by! And welcome to all new friends! Come on back again!💗
For any of you who will not be stopping by again, I must now say, Happy, Blessed Easter to you!
Stitching and praying,
Vickie