Hi friends! I was missing from the blog for a bit because I have been busy with my physical therapy now. Whew. What a lot of work this is.😩Every day, three times a day for this frozen shoulder. And I still do my exercises every other day for my hip! Good grief. Such fun. Well it must be done.
I am back because I have some stitching to share. I finally finished the Easter stitching I mentioned in my last post. NOT before Easter. Oh well. I am not used to going at a slower pace. This recovery thing is NOT my thing, but.. it.. IS, you know what I mean? I am forced to slow down. My body is telling me so.
Here is the beauty I stitched up.
Do you remember these?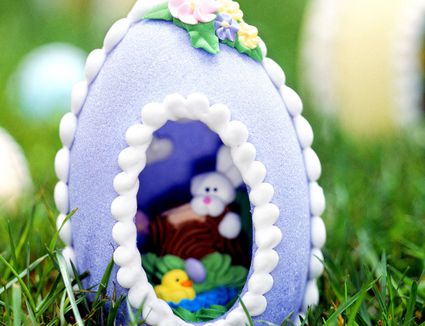 I remember these from my childhood. This ribbon I found made me instantly think of the frosting that was piped around these eggs. tee hee!
I could not find a fabric I liked for the backing. I made a trip to JoAnn and found white sparkle mesh. ooOoo! I glued a piece of white paper to the backside of the plain cardboard egg shape for the back piece. I then glued on a double layer of the white sparkle mesh. I could very well be crazy, but to me, it reminds me of a sugar egg. What do you think?
I am very happy with this finish. I plan to make a few more in the future. As in next year.(I have too many other things lined up to do
RIGHT NOW!
) The door knob hanger finish is a good option for me to display my seasonal stitching here in the apartment.
I should show you some of the pretty flowers I have received during my recovery time.
Jane and the Cantebury Tale
by Stephanie Barron was a very good book. I just love every one of these "Jane" books. Stephanie writes these books so well that I forget that they are HISTORICAL fiction.They just seem real. If you love Jane Austen and historical fiction, I really recommend the Jane Austen Mystery Series by Stephanie Barron.
Three years after news of her scandalous husband's death, Adelaide Fiske is at the altar again, her groom a soldier on the Marquis of Wellington's staff. The prospects seem bright for one of the most notorious women in Kent—until Jane Austen discovers a corpse on the ancient Pilgrim's Way that runs through her brother Edward's estate. As First Magistrate for Canterbury, Edward is forced to investigate, with Jane as his reluctant assistant. But she rises to the challenge and leaves no stone unturned, discovering mysteries deeper than she could have anticipated. It seems that Adelaide's previous husband has returned for the new couple's nuptials—only this time, genuinely, profoundly dead. But when a second corpse appears beside the ancient Pilgrim's Way, Jane has no choice but to confront a murderer, lest the next corpse be her own.
I have now begun stitching my May wreath for the cubby shelf.
We have five inches of snow here. On top of one inch of ice. Just wonderful.
NOT!
And it is still snowing.
Well, I will be stitching and doing physical therapy this week friends. ugh. The shoulder work is VERY hard work. But I am doing it!
Have a super week! I am so glad you stopped by. Thank you for your comments and encouragement. God bless you!
Stitching and praying,
Vickie