Good Morning my friends! It has cooled off here wonderfully. =) I did finish stitching the little Snappy Sampler a few days ago. I even pulled a perfectly matching backing fabric. Just need to make myself finish it off!! No pictures yet. Although I am going to show you an image of the Snappy Sampler here.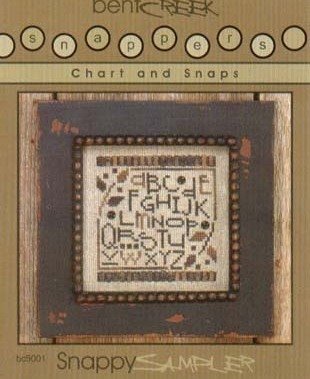 Would you like to stitch this cute little thing yourself? The little black snaps are still included, I used the black snaps Donna sent me from a German antique store. =) I also changed up one of the colors. I will show you when I complete the finishing. I received this as a gift from my friend Laurie in Texas.
I did not forget about my Love Notes Giveaway drawing yesterday. I just didn't get on to post until now. The winner is
Julie
! I have emailed you Julie and I am waiting for your address. If you are one of the ladies who wanted to win it, but did not this time, please keep an eye on Julie's blog for a chance in the near future. =)
I never showed you Emerson's birthday cake I made last Saturday. I have to get busy and make another birthday cake this morning for Miss Madeleine. Her party is tomorrow. Emerson's birthday is the 20th and Madeleine's is the 31st. Wish me luck! She wants a "Henry Cake". (。◕‿◕。)
Have a fabulous day in the Lord my friends! I am off to bake now.
Stitching and Finishing and Praying,
Vickie